Digital Experience
The space to understand what digital is used for and how it works
The "Digital Experience" area is inside pav.31, digitally surveyed last year, and used as a Bim model for demos and testing activities.
Inside this hall , companies will be able to offer trials to understand what digital is for and how it works to plan renovation projects, perform maintenance, act, design, analyse existing buildings.
The topics, which SAIE will represent and offer to visitors for an 'experience', are:
Design (of buildings, system and structural renovation)
Construction stages (digging, piling, casting, building)
Checks during works
Maintenance
Safety checks, both seismic and structural
Other topics that exhibitors can choose.
Each company will have an area of approximately 30 sqm to install devices / systems or set up work areas and workshops on the indicated topics.
The communication will be built on the offered 'experiences' going on in each Pavillion.
Already scheduled:
A) The Digital Building Site, by STR Team System
B) BIM and Building Performance Simulation, by CSPFEA
C) Parametric surfaces, by INDEXLAB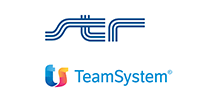 Ask for more information about DIGITAL&BIM Italia?